It's a bold statement, but we believe our SEO and Article writing services are the premium offering in the market when compared to what is currently available in the industry, taking a walk through our unique article process might provide some insight as to why.
The old content marketing method
Historically, clients typically employ the services of an SEO consultant, usually, one who understands the value of creating content. The consultant will invariably – alongside other advice – recommend that the client needs additional content, usually in the form of a blog.
The client is advised to take a trip to an online platform or other article writing space where they then select a writer to carry out some blog writing.
This is where the process from SEO to content becomes disconnected. The final results are often not what was intended, and we've seen numerous blogs fail to gain traction or traffic because of no ongoing checks and balances.
The new content marketing method
Here at Finity Web, we combine both services. This is fairly unique within the industry and offers a number of advantages to our clients…
It's a single SEO and content store to obtain Specialist SEO and Content Marketing advice as well as having the content created for you
Our SEO journey is a more in-depth partnership, we get to know more about you, about your products or services, who your competitors are, and liaise with you at each stage
Your blog is written with SEO in mind, not as a random article that may not be the right length or type of article for your stage of growth
You get a team, your article is passed through a process involving a number of specialized people with specific functions, to provide the best article possible
Because we write articles with your unique SEO strategy in mind, this makes your articles unique too
Your blog will look consistent and professional throughout
It's all targeted blog posts, each one has great potential to bring traffic to your site
The Finity Web article process
Here's an infographic, and some further explanation that outlines the article process we undertake for all of our clients…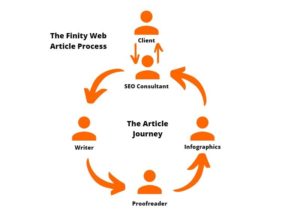 The article is first assessed by an SEO consultant who is familiar with your account and understands your aims and objectives.
Once articles are targeted using SEO tools and research, the outline and instructions are then passed to a Finity Web writer. We have a team of writers who write our content for you, clients are usually paired with a suitable writer to provide further consistency.
The written article is handed to a proofreader who will check the article for grammatical corrections, flow, links, schema, and other aspects of the Article. Any change requirements are then returned to the writer for re-writes.
Where appropriate, a portion of our articles will have one or more infographics added to them to improve the content further and provide a unique and professional look to the post.
Finally, the article passes back to the SEO Consultant to check the initial instructions were adhered to, that the article meets the search requirements and to optimize it further. They will then summarize and send the article to the client for posting.
We aim to make all of our articles rank on Google page one, anything less is a waste of your budget. This process gives us the best chance at ranking as many articles as possible for your business – and it works!
So now…
We hope this has given you some good insight into why we solidly believe our service is the premium service in the marketplace. Place your introductory article today and let us demonstrate our value to your blog or your business. Or, check our consultancy route out in more detail.