Proven Successes
Example One
Our clients generally choose to remain private – of course. But they cover a whole range of different topics, sectors, and industries, from single owner sites and bloggers to large corporate companies.
We currently have clients in the Medical Industry, Careers Industry, Industrial and Manufacturing Industry, and many more. Not to mention, hobby enthusiasts and bloggers, online stores, Fraud prevention companies, local service companies, and online application sites. The list is getting longer every day.
Here are some statistics on a real-world example site we've worked on just after it launched. This is through our full consultancy service.
This website was started at the end of 2018 (Statistics up to June, 2019)
Currently, around 34 articles – of various lengths, targeting various traffic volumes
At 3 months: Page views at 1200 per month and rising fast – in just over 3 months!
At 5 months: Page Views at 9500 per month and still rising – in just over 5 months!
At July 2019: at 17000 new visitors every month and climbing
The chart below shows the average position in purple, across all articles over all that time scale, which means almost all articles are averaging page one of Google positions so far
We're currently 3-6 months ahead of expected schedule and already earning revenue
This is purely organic views – No forced backlinking or black hat techniques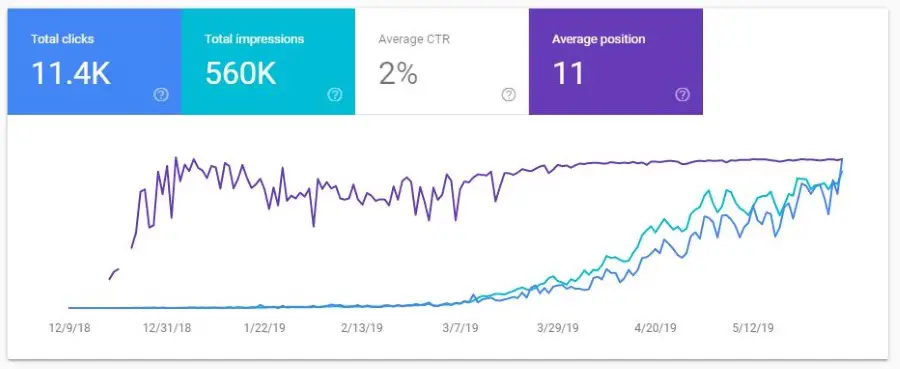 Here are the current stats as of Sept 2021. 93 posts, 53,000 visitors per month. The average article position is 8.3.
---
Example Two
Our second example involves a website in a particularly competitive niche. We were asked to provide full consultancy from October 2018, 5 months after the site had been built with a handful of articles that (sadly) we knew would not rank.
Now, six months further in and we're seeing excellent gradual increases in traffic. We're very pleased and so is our client.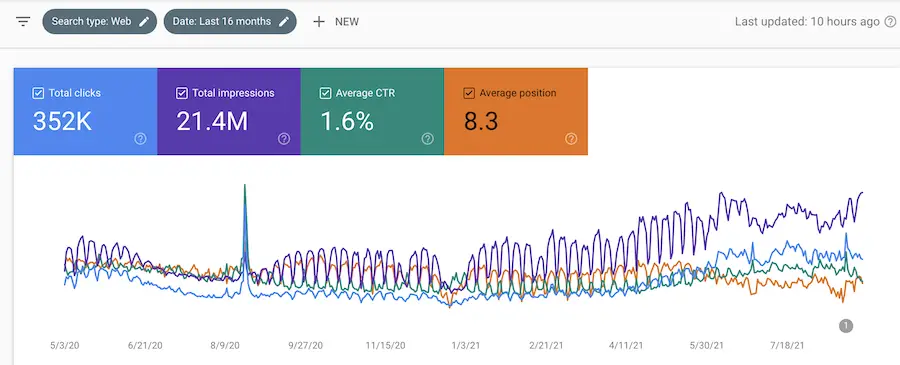 ---
Example Three
Began working on this website for a customer in January 2021
There are now 30 articles on the website and traffic is building as expected at the rate we are going.
In September 2021: 8000 Pageviews per month and growing.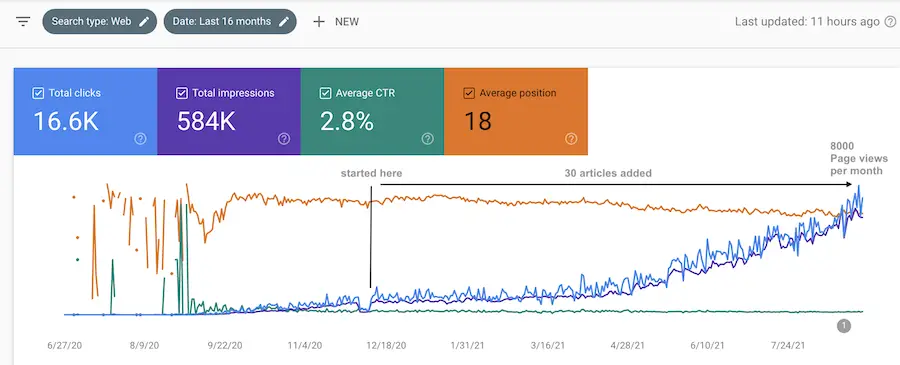 ---
These are just three examples.
We would really like to help you get organic traffic to your website. Put us on your team and let's get started…
Contact Us Now About Our Full Consultancy Service
Here's Becca from wearedallasfortworth who gave us some wonderful feedback on her progress.
Contact Us Now About Our Full Consultancy Service
---
Our aim is for your website to succeed. Let us help you increase your organic traffic, contact us now for an initial consultation.