Just in case you've fallen out of touch with technology over the last decade or more, I thought I'd clarify exactly what the differences were between the two.
So here's the quick answer, then we'll dive into some more detail…
The differences between a blog and facebook. Blogs offer total control and authority over the content, posts are permanent and visible. On the other hand, facebook limits your control and creativity. Facebook posts are not visible to everyone and its even difficult to view older posts. Blogs are more creative compared to Facebook posts.
Purpose Of a Blog And Facebook
To understand the difference between a blog and facebook, it's important that we first learn the purpose for which they were both created. A blog is a short word for a "weblog".
Blogs are more along the lines of periodicals – like magazines and newspapers. This is why much of the time, Blog Posts are also called 'Articles' based on old-world academic type articles.
They maintain a log of events and keep a record of thoughts, ideas, and opinions which you have shared on your blog. It generally consists of diary entries, facts and information, thoughts, personal opinions, and ideas.
While Facebook is one of the social media platforms where you have your own online account, which potentially reflects your social life.
The purpose of facebook is the social interaction between people. Due to its social nature, facebook is used for updating status and connecting with people.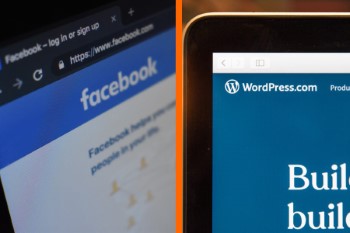 Content ownership
Your blog is your platform, you can pour your heart out in words and all the content shared on this platform is yours.
Every single word and character posted on your blog belongs to you. since you own your blog and every piece of content in it, you are not bound by any limitations placed by any other platform.
You may think you own whatever content you share or post on facebook but it is not entirely true. When you post anything under the "public" setting, you are giving Facebook permission to use your content.
Facebook can use your content in any way, anywhere they deem fit. It also depends on the way facebook is operated, if any changes happen or new update comes, your content viability could be in danger.
Visibility of content
With over 3.5 billion searches per day and 1.2 trillion searches per year worldwide, how often do you see a facebook page show up in top results? Also, your posts on Facebook could easily be viewed and scrolled down.

Bloggers use SEO marketing principles, tags, links, catchy titles to maximize the power of a search engine in order to deliver their content to the audience or market their product.
A blog allows your customers to know more about what product you have to offer in more detail. Unlike Facebook, blog posts even pop up in Google's top results – if you start your blog correctly.
Theme
The blog has a purpose and follows a theme. There should be a specific reason for the audience to follow your blog and stay up to date. The theme can be anything whether informational, marketing or business-related, personal opinions, etc.
Facebook, on the other hand, can be totally random. Since Facebook is all about interacting and socializing, you don't have to worry about following a theme and sticking to it.
Posts on Facebook can be spontaneous, mundane, and with no worries about attracting an audience or driving traffic.
Cost of content promotion
With millions of users using Facebook, it's difficult to promote your content and get the desired personal attention that you deserve.
Facebook allows you to boost your post at the expense of some dollars. If you think your post should be promoted and should be getting more clicks, you can simply boost it. It also allows you to turn your posts into an advertisement, in fact, that is what boosting does.
It makes ads that look like posts in order to get more exposure and more views from people. You can even pay to get more likes, clicks, and shares on your content. Since all of these options require money, make sure you make the budget and don't let your spending exceed your earnings.
Talking about blogs, they are much cheaper and easy to handle. Your blog content can easily be viewed by many. Blogs have global appeal to them, people come looking for your blog and your content rather than you taking your blog to people. Blogs do not require extra dollars to promote and expose your content.
Monetization of content
Means by which facebook can be monetized are extremely limited. Monetizing features in facebook include ad breaks, instant articles, linking directly to site. You can earn revenue from ads that run in your content by using features such as ad breaks or instant articles.
Bloggers can monetize their blog when a number of visitors increases. There are different ways to monetize your content, for example by affiliated marketing, advertisement and selling online courses, etc. Blogs allow you to understand your audience and their needs and choose the best monetizing method for your blog.
Indefinite existence
Everything you post on the blog all exists indefinitely. Even though the content will no longer be useful in the future, it can still get you valuable links.
Blogs sort your content and categorize it while facebook cannot categorize and sort out your content. It is nearly impossible to search for posts you shared a couple of years ago.
Tracking views
Facebook pages are more functional when it comes to tracking viewers on-page. Although Facebook does provide insight services to track the number of viewers, it fails to track the identity of people who visit your Facebook page.
Google analytics helps bloggers to track blog traffic and visitors who visit the site. Regardless of the platform, you're using, it is imperative that you let google analytic website to help you track your audience.
Tracking can help you focus on those topics that people enjoy the most and stop focusing on those which does not attract an audience.
Ranking in google
With great SEO skills and creating content that people love, blog surely makes into the top list of google ranking. Using a well-written post with researched keywords will help you get the ranking and get on the first page of Google.
Once your blog is there, it can drive a continuous stream of traffic. This is better than posting on social media where you do not get the exposure as compared to what you are getting with the blog. A Facebook post can probably never compete with a blog post when it comes to ranking.
So finally…
If you're struggling to get traffic to your blog, or you've just started a blog and wondering how you're going to get traffic? Then it's a perfect time to check out my free course for a quick and easy guide on how to get it done.